Time for Voter Registration at your Library!
EveryLibrary is the national library partner for National Voter Registration Day on September 26th.
I hope your library can be a local partner and help ensure that every American is registered to vote for election day on November 7th. Over the last 2 years, we have helped over 450 libraries across the country be a part of this non-partisan voter registration effort. This year, we want your library to be the local champion for voter registration, too. It's quick and easy to register your library as a National Voter Registration Day local Partner. And if you do by September 4th you will receive FREE promotional materials like posters and stickers to promote voter registration services in your community or at your library.
---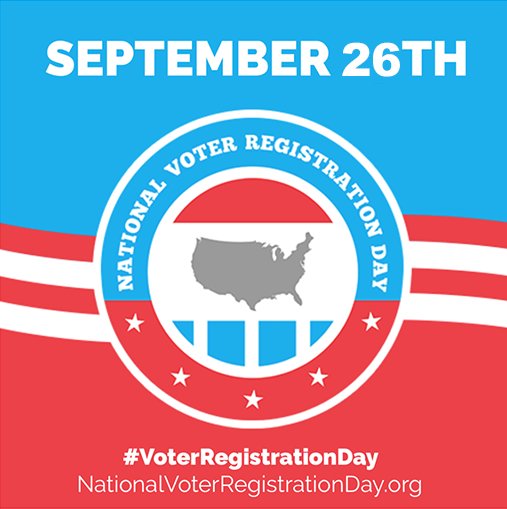 Register your library as a local Partner for
National Voter Registration Day - September 26, 2017!
---

EveryLibrary is dedicated to helping libraries campaign for and win the funding they need. We are proud to support a number library campaigns on the ballot this November. We are a proudly non-partisan and pro-library PAC, so we are focused on bringing more Americans to the polls across the country. Your library should be at the heart of enfranchising more people with their right to vote in upcoming local elections. Please register your library as a local Partner in National Voter Registration before next Monday to help make every voter count.
Whether you have voter registrars on staff, or if you can only promote another non-partisan voter registration effort, registering for NVRD helps libraries be seen as involved, active, and impactful in the civic life of our country.
---
join us on Facebook and invite your friends to help us find one million Americans who love libraries.
---